Home |Our Music Products | Contact | References | Solo Hi-tech | New Orleans Jazz | Big Band |Trumpets & Crumpets | Jazz Group | Tijuana Brass | Country | Jimmy Buffet |Fun-e-Stuff | Stuff for Sale | About Us | FAQ | Wine |
Trumpets & Crumpets
My current trumpet: A restored 1964 King Super 20 Silversonic Symphony trumpet
Entire bell section and lead pipe (dual bore) are Sterling Silver, made in Cleveland by H.N.White Company, very similar to the trumpets played by Harry James, Dizzy Gillespie, and Al Hirt...
Jupiter 846BL black flugelhorn: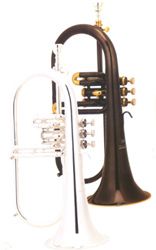 This was the very last black lacquer model to come out of the distribution factory in Texas. It is no longer produced. It's computer based engineering takes the best characteristics of the French Couesnon flugel (pron. "queenon") and the Yamaha Model YFH 631. I feel this is perhaps one of the best horns I have ever played and it responds like a horn really should. Can't say that for any trumpet I've tried, (nature of the beast?) and I've tried many, many trumpets. The sound is buttery smooth and mellow. Later, I will post MP3 sound samples.
Black Flugelhorn specs:.433" (11 mm) medium bore, 6" (152 mm) bell, French design vertical tuning slides, bottom spring, monel pistons, tuneable mouthpipe. In crystal black finish with gold lacquer trim. Mouthpiece = a Bach 7C equivalent from Jupiter. Pictured above are the silver and black-lacquer versions.
DH
Quiz time!...who's the great trumpet player on the left with the cigar? Answer below.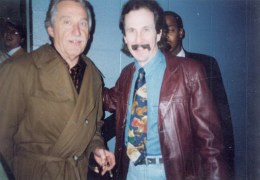 Who's the man with the cigar?
Hint 1: At 85 years old, a trumpet-gladiator, he still has one of the greatest trumpeter sounds in the world.
Hint 2: He was NBC Orchestra leader for the "Tonight Show" with Johnny Carson (back when NBC had a true 17 man jazz orchestra, rather than a band...good band tho' huh?). Jay Leno was the recent host, now Jimmy Fallon. If you don't know the answer by now, then you're too dang young for this site! Go away kid... you bother me... whippersnapper! Just kiddin' punk.
On the left (above) with cigar is the great trumpeter "Doc" Severinsen.
My wife Julia shot this photo as Doc finished a concert with the Louisville Orchestra-1993.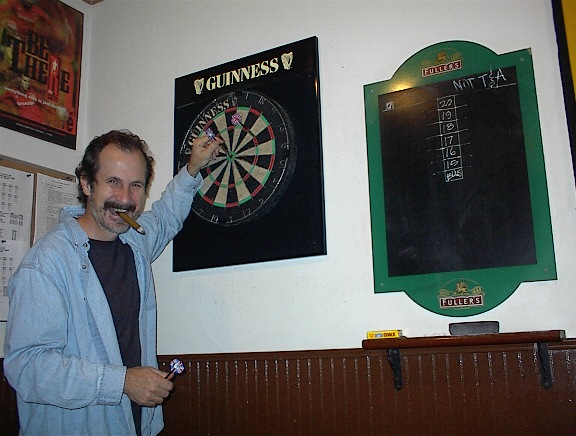 Home |Our Music Products | Contact | References | Solo Hi-tech | New Orleans Jazz | Big Band |Trumpets & Crumpets | Jazz Group | Tijuana Brass | Country | Jimmy Buffet |Fun-e-Stuff | Stuff for Sale | About Us | FAQ | Wine |